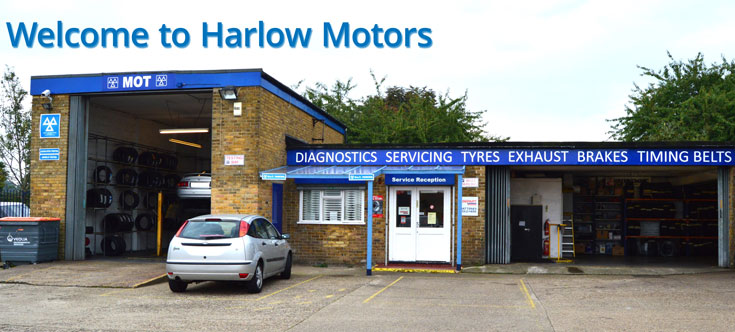 Harlow Motors look after cars and vans in Harlow. We provide diagnostics, tyres, MoTs and exhausts plus repairs and car & van servicing.
We pride ourselves on offering a honest and professional service at competitive prices at our friendly local Harlow garage.

The Motor Ombudsman.
We are registered with The Motor Ombudsman. That's the motor industry's fully impartial dispute resolution body. It gives our customers added protection, peace of mind and trust.
Car & Van Servicing
Our clear, menu based servicing makes sure you know exactly what you're getting for your money. We never try to sell you more than you need.

MoTs in Harlow
We make getting your MoT done quick and easy. We offer very competitive pricing: just £45.00 with free retest.

Servicing your car with the franchised main dealer? Save money with us!
There is no need to pay high prices for servicing at the franchised main dealer who sold the car when it was new. A service done by us is just as good and is much cheaper. We use the same quality parts, and do top quality work. Our servicing maintains your car's warranty. We tell you exactly what we will do, and exactly what it will cost.
Combine your MoT & Service
Why not MoT and service your car at the same time? You will save time and save money, paying just £35.00+VAT for the MoT.


Happy to Help.
If you are unsure about what your car needs, we can help. Whether it is service requirements, tyre sizes, or anything else, we have the answers. Simply tell us the registration and we can find the make and model, and the details of what's required.
Car Diagnostics in Harlow
The "check engine" warning light on the dashboard tells you there is a problem. Our diagnostics tell you exactly what the problem is, and how to fix it.
It's unwise to delay the diagnostics. They give you early warning of potential issues so that you can stop a problem from becoming a crisis.
You do not need to go to a dealership. We carry our diagnostics on almost all makes and models, at better prices than the dealerships.
Our diagnostic equipment reads fault codes from your car's Engine Control Unit ('ECU'), which stores fault codes from sensors around the car.
Our highly-trained mechanics understand what the codes mean. They will explain to you exactly what the fault is, and how it can be fixed. Then they will give you a free, no-obligation quote for the repairs.
Car diagnostics start at just £37.50+VAT for half an hour. It doesn't just pay for our mechanics time: it pays for their advanced equipment, high-level training and great experience.
Even better, we cut the cost of the diagnostics by 50% if a repair is required and we carry it out.
How To Find Harlow Motors
We are located on Perry Road in Staple Tye, just off Southern Way, at CM18 7NF.
Perry Road is the turning off Southern Way by the BP garage.

Opening Hours
Our garage is open:

Weekdays: 8:00 am to 5:00 pm
Saturday and Sunday: closed