Tyre Problems Solved
If you've got a problem with your tyres we can help. Whether it's a puncture, or just a worn-out tyre, we can get your car back on the road, quickly and cheaply.

Why Choose Us?
Harlow drives choose us, and come back to us, because we offer :
great prices
wide range of tyres in stock
quick fitting
friendly, helpful service

Tyre services
We only fit tyres provided by ourselves, which are balanced, fitted with a new valve and the disposal of the old tyre.
Whilst every precaution is taken to prevent damage on changing tyres of alloy wheels and tyre pressure monitoring systems, there is always an element of risk in doing so whilst removing the tyre, (or that the tpms valve is already damaged prior to repair) The customer should be aware of this before work commences. Therefore we cannot accept responsibility for this.
Unfortunately, we only replace/repair up to and including 18" tyres.
Please bring your locking wheel nut into reception
Puncture repair on wheel : £20 + VAT (balancing, New valve, mushroom repair, disposal of old tyre)
Bead seal repair: £25 + VAT
Swap a wheel around: £10 + VAT (if swapping tyres from rear to front, then they must be balanced by us)
Wheel balance only: £10 + VAT
New valve used: £10 + VAT
High pressure valve (common on Transit) : extra £5 + VAT
A wide range of tyres in stock
We always have a wide range of tyres in stock in our Harlow garage. Plus, we can quickly order in anything out of the ordinary.
We stock, supply and fit:
sports car tyres
premium tyre brands
tried and trusted brands such as Dunlop, Michelin, Goodyear and Pirelli
newer brands such as Falken, Hankook and Yokohama
great value economy brands.
To cut your costs even more we also supply a selection of part worn tyres.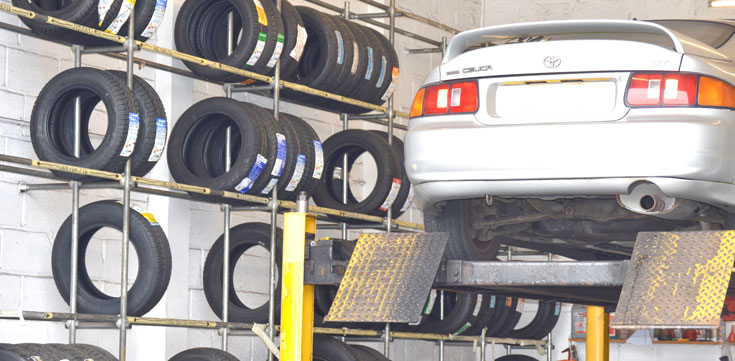 Tyre Fitting
Our tyre fitting includes new valves, wheel balancing and correct disposal of the old tyre. (Disposal of old tyres is controlled by law, and must be done by a licensed waste carrier.)
Puncture Repairs
Has your car tyre got a puncture ? We can often repair punctures, and costs start from as little as £10.00+VAT: much cheaper than a new tyre. If a repair is not possible we can replace the tyre quickly: we have a wide range of tyres in stock.
Don't risk an MoT fail
Faulty tyres are one of the most common reasons for cars to fail the MoT. Tyres cause a fail when they are worn, damaged, incorrectly inflated, incorrectly fitted, or not matched to the other tyre on the same axle.
If you MoT is coming up, don't risk a fail and the inconvenience of a retest. Let us check your tyres for you.
Look after your tyres
Keeping your car on the road requires looking after the tyres. Worn tyres are not just a MoT fail : they may reduce the safety of the car, and may invalidate your insurance. We can replace worn out tyres quickly, so you can stay on the road.
Getting tyre pressures right is important. Under inflated tyres suffer more wear to the inner and outer edges of the tyre, and use more fuel. Over inflation wears the centre of the tyre and compromises the handling of the car.
Charity TyreSafe offer advice on looking after your tyres, including service that tells you the correct tyre pressures for your car based on it's make. model and year.
Solve your Harlow car tyre problems by simply calling 01279 445858.